Yangon, Dhaka to discuss Rohingya in July
Next month Myanmar and Bangladesh plan to discuss the issue of Myanmar refugees fleeing sectarian violence. Over 80 people have been killed in the violence this month.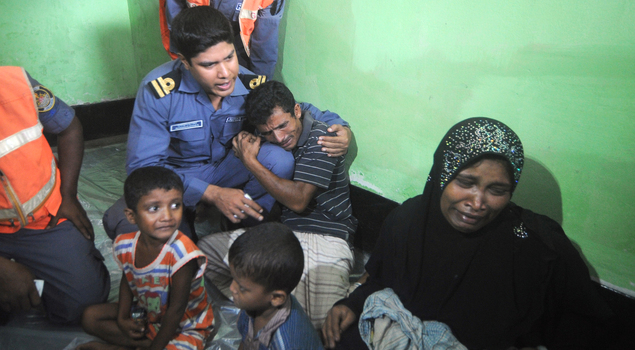 MUNIR UZ ZAMAN/AFP/GettyImages
A Rohingya Muslim woman from Myanmar holding her six day old baby and her family, who tried to cross the Naf river into Bangladesh to escape sectarian violence, cry in a Bangladeshi Coast guard station in Teknaf on June 19, 2012, before being sent back to Myanmar.
The leaders of Myanmar and Bangladesh will discuss the issue of Rohingya refugees and related unrest near their shared border next month, Bangladesh's ambassador in Yangon said Monday.
The topic will be on the agenda when Myanmar President Thein Sein travels to Bangladesh from July 15-17 to meet Prime Minister Sheikh Hasina, Major General Anup Kumar Chakma told AFP.
"It is expected the Myanmar refugee issue will be discussed with more seriousness this time," he said.
"Bangladesh supports all actions (and) measures that are being taken by Myanmar to restore normalcy in Rakhine State as early as possible."
Myanmar government officials said they were unable to confirm the planned trip.
Myanmar's Rakhine state, bordering Bangladesh, has been rocked by rioting, arson and a cycle of revenge attacks involving Buddhist Rakhine and Muslim Rohingya this month, prompting growing international concern.
More than 80 people have been killed in the violence, with sporadic outbreaks of violence still occurring, according to the Myanmar government, which has placed the whole of Rakhine state under emergency rule.
"The overall situation in Sittwe district is under control although the curfew is still in force," he said by telephone.
About 800,000 Rohingya live in Myanmar, according to the UN, which views them as one of the world's most persecuted minorities.
In recent weeks Bangladesh has turned away hundreds of Rohingya Muslims fleeing the violence in Myanmar despite pressure from the United States and rights groups to grant them refuge.
The impoverished South Asian country is already home to a Rohingya refugee population estimated at 300,000.
Speaking a Bengali dialect similar to one in southeast Bangladesh, the Rohingya are seen as illegal immigrants by the Myanmar government and many Burmese, prompting many to attempt to flee to third countries in rickety boats.